Ecommerce & Marketplaces Newsletter – July 29th, 2022
Welcome to the 64th edition of the "Ecommerce & Marketplaces" weekly newsletter. We kick off this edition with a story of digital transformation in one of the biggest brands in the world. McKinsey's insight "Coca-Cola: The people-first story of a digital transformation" talks about how Coca-Cola is training thousands in its commercial product supply operations to upskill through the Digital Academy. Roberto Migliorini, a McKinsey's Operations Practice partner, provides insight into why the digital transformation was needed and the skill building required to deliver it. To learn about how McFadyen Digital is helping its clients in the digital transformation journey, visit our client success stories page. Embedded financials has become the buzzword, and more and more marketplace operators and brands are getting on the bandwagon. In this podcast, Eric Sager, COO of Plaid, and Ben Brown, Cross-industry Financial Services Lead at Accenture, talk about the scenario "When every brand becomes a bank." According to the Accenture study, 47% of non-financial companies have already invested in embedded finance offerings as a growth strategy. This number is only going to increase in the coming days. The podcast also talks about the impact of embedded finance on traditional financial services and the opportunities in the marketplace. Marketing Dive looks into how Amazon is giving a significant marketing push to its B2B arm on the office supply categories side. It's one of those categories that had a few rough years due to the pandemic. With Prime Day 2022 outperforming both itself and competitive sale events this year, we finally have a full report (downloadable) from Numerator on Prime Day sales and trends. Digital Commerce 360, in collaboration with Bizrate Insights, surveyed 1,000 online shoppers this year to gauge consumer sentiment and perceptions toward online marketplaces. The study has some interesting findings. In these challenging times, the sellers need to manage prices, deliveries, and attempt to keep products in stock to stay in the game. Another survey from PYMNTS looks at how US consumers react to the current economic turmoil. Read this and more in this week's edition.
Notable news from the past week

Coca-Cola: The People-first Story of a Digital Transformation

Global consumer goods company Coca-Cola has established a digital academy to upskill managers and frontline team leaders across its business operations. In its first year, the academy trained more than 500 people in digital skills using a combination of go-and-see visits, immersive boot camps, and e-learning modules. Graduates of the academy have implemented about 20 digital, automation, and analytics approaches at ten-plus sites in the com­pany's manufacturing network, boosting productivity and throughput by more than 20 percent. Digital-skills training is now being rolled out to about 4,000 employees across the organization.
What Happens When Every Brand is a Bank?

Embedded finance enables businesses to seamlessly integrate financial services into their business models, providing banking, credit, payments, or other services — efficiently and at the consumer's point of need. According to Accenture, 47% of non-financial companies said their companies have already invested in embedded finance offerings. The vast majority of these firms also stated that embedded finance increased engagement and helped them acquire new customers.
Amazon Business Debuts First Major Campaign in Grab at Office Supplies Category
Amazon Business, the e-commerce giant's business-to-business (B2B) subsidiary, on Monday (July 18) released its first integrated broad-scale campaign, "Buy smarter. Dream bigger.," per details shared with Marketing Dive. Made with agency Butler, Shine, Stern & Partners, the campaign features a 30-second national spot titled "PetTech" that depicts the imaginary launch of a pet-device company and demonstrates how Amazon's platform can consolidate ordering, track spending and monitor other needs in one place.
Prime Day Recap: Downloadable Report, Includes Walmart+ Weekend & Target Deals Days Comps

Prime Day 2022 outperformed both itself and competitive sale events this year. More households shopped— and spent more— than any other Prime Day, resulting in a more dramatic sales lift compared with Walmart+ Weekend and Target Deal Days. For more insight into Prime Day 2022 results, check out Numerator's comprehensive Prime Day 2022 Recap Report. In it, we provide an early read on Prime Day 2022 performance, including an overview of how the event compared with competitive sales Walmart+ Weekend and Target Deal Days.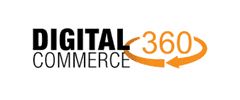 The Shopper Speaks: Shoppers Embrace Online Marketplaces in Record Numbers
Digital Commerce 360, in conjunction with Bizrate Insights, surveyed 1,000 online shoppers in May 2022 to explore current shopper perceptions of online marketplaces. Online shoppers are showing strong interest in marketplaces. Some 35% of online shoppers buy from marketplaces at least weekly, according to a Digital Commerce 360 and Bizrate Insights survey of 1,000 online shoppers conducted in May 2022. Almost half of survey respondents (49%) said they make monthly purchases on marketplaces.
How To Get and Retain Control of Your Brand By Selling Online
High brand value is one of the most important intangible assets a company can have. It's something founders give their heart and mind to create, work nights and weekends to improve and lie awake at night praying they can protect. This is especially true for leaders at consumer product brands that have predominantly sold offline during the last 50 years. These leaders have invested immense sums over many years (often decades) to create a brand that captures the hearts and wallets of a consumer base in an offline world.
Why Retailers Should Worry About Inflation but Dread the Wealth Effect
A new survey of U.S. consumers, hot off the presses at PYMNTS, tells a lot about how they're handling the current economic turmoil and when they think it will end. It's important information for any business or policymaker trying to navigate through the next couple of years. Economists have long studied the impact of macroeconomic news on consumer spending, and most agree there is one. Even marginal positive news about unemployment rates can boost consumer spending — with visible, long-lasting effects. Conversely, bad news about unemployment rates has been found to reduce consumer spending by 1.5% — including by consumers who have jobs and are unaffected directly by the news..
.
To subscribe to the Ecommerce & Marketplaces Newsletter, please complete the subscription form on this page (either to the right or below this article, depending on device). If you have any suggested content for this newsletter or would like to discuss evolving your organization's digital commerce, please write to us at info@mcfadyen.com.