A Recap of Prosper Show, March 13 – 15, 2023
Premier Event for Advanced Amazon and Marketplace Sellers
INTRODUCTION
With over 2500 Amazon sellers and service and solution providers in attendance, Prosper Show 2023 was a success. Founded in 2016 by James Thomson and Joseph Hansen, Prosper Show is where established marketplace sellers ( mostly on Amazon, Walmart, and beyond) gather to network, connect, and learn how to make their independent businesses more profitable. The 8th edition of the annual conference took place from March 13 – 15 in Las Vegas, Nevada. This year's edition, as usual, was filled with education, networking, and community-building opportunities.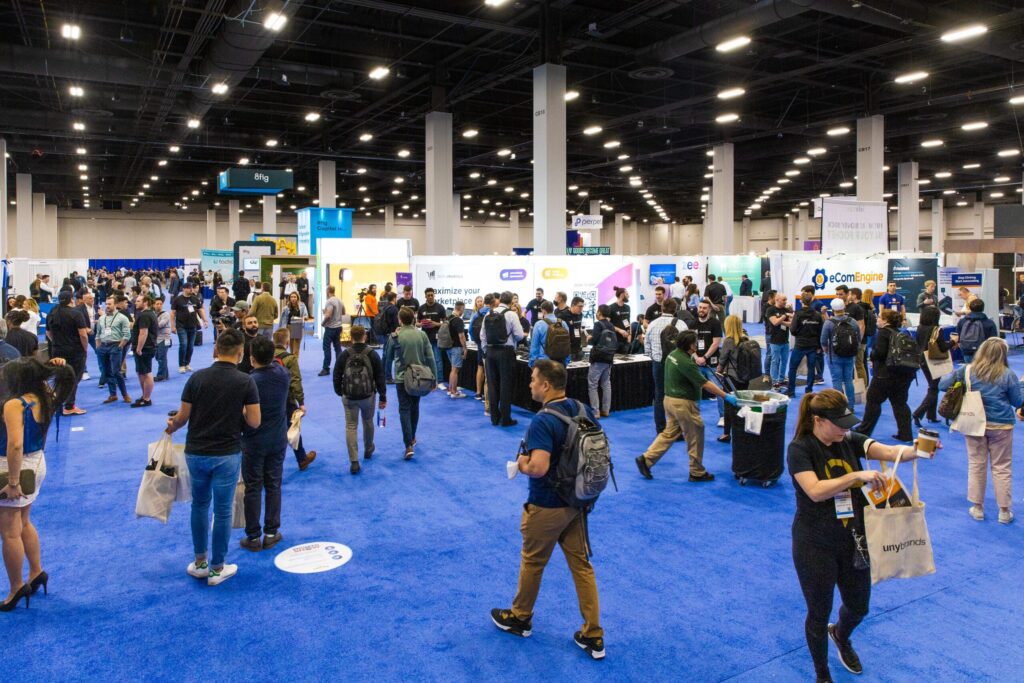 The Prosper Show provides three key areas of opportunity for the marketplace seller community. Firstly, it enables them to connect with fellow network sellers to learn what fellow sellers are doing to grow their business, maximize profits, and improve efficiencies.
Second, the show is a platform to connect with the solution providers. This helps in learning tactics to increase brand presence and get visibility to tools to help you scale your business to the next level. This edition of the show had over 140 solution providers. Lastly, Prosper Show is an excellent medium of advanced education for marketplace sellers – it was a fantastic opportunity to dive deep into today's business practices with in-depth workshops focused on providing actionable solutions one can implement immediately.
Cody Griffin, VP of Marketing at Dr. Squatch, delivered the Prosper Show keynote. Cody discussed the power of omnichannel and stressed how eCommerce is quickly evolving, where each channel has a different customer base. He presented some of the success stories of search marketing and ads at Dr. Squatch. He called out Forrester's prediction that by 2025 70% of sales will be "digitally influenced." He wrapped up his keynote by talking about Predictable Revenue. This subscription program can give a business the financial firepower and the confidence to invest in other business areas. A model that helps fund "experiments" within a business.
SOME NOTEWORTHY SESSIONS
Now let's look at some of the noteworthy conferences and workshops. While the overarching theme was omnichannel, some areas the conferences and workshops focussed on included brand building, driving traffic, maximizing impact, international growth, and expanding beyond Amazon to other marketplaces. One of the other focus areas was to help sellers grow discoverability with advertising, both on and off Amazon, and how to overcome sales challenges during such challenging economic times.
1. Ten Steps Action Plan to Diversify and Scale Sales – One of the very insightful sessions by Eric Kooymans, President of Harnessing Strengths, a full-service web design & marketing firm specializing in web development, e-commerce development, WordPress development, search engine optimization, and marketing services. The session gave the sellers a clear-cut action plan to scale sales. It threw light on overcoming challenges like Amazon suspensions, losing the buy box, high shipping costs, etc. It was a special session with very little fluff that provided the steps and stats needed to succeed, where to start and what is the correct order, tools to accomplish goals, common mistakes, and next steps. It was richly contextualized with Harnessing Strengths' 20-year experience working with over 180 businesses and providing 2x to 10x growth.
2. Advanced SEO Strategies To Grow Profitable Sales and Avoid Wasted Ad Spend – This session by Shannon Roddy at Avenue7Media focussed on advanced SEO strategy for marketplace sellers. The key areas the session covered were SEO funnel, Target Terms, SEO Keyword Research, Amazon Vs. Google in terms of SEO, Integrating SEO into the overall marketing, and lastly, Advertising, Analysis, and Optimization. He stressed how Amazon has now become a search engine with up to 70% of consumers starting their product search on the platform, and hence success on Amazon is organically ranking for your product's most highly searched relevant terms. He presented how Amazon enables opportunities for the best branding, most engaging copy, and highest quality graphics. But all of this won't be possible without SEO because no one can find your product to purchase it. At the end of the day, SEO provides the greatest ROI compared to any other activity you perform selling on Amazon while drastically impacting your product's lifetime sales.
3. Amazon Influencer Marketing Exposed – This was one of the most exciting presentations taken by Gracey Ryback, Amazon Influencer, Live Creator, and Paul & Rachelle Baron, CEO of Influx Catalysts and CEO of BB Littles, respectively. Gracey is an Amazon Influencer & content creator who specializes in bringing the best deals & Amazon finds to her community of over a million followers across Tik Tok and 6+ additional platforms. Rachelle & Paul are tenured Amazon sellers since 2015 with a successful 7-figure brand. They have traveled worldwide on the speaking circuit, teaching Amazon sellers how to build authentic brands that generate buzz from social proof off Amazon. Their session focussed on "Insights, Insider Secrets & Lessons Learned from both Brand & Influencer." Gracey covered what influence marketing can do for marketplace sellers, finding the right Creator and platform for your brand, and leveraging the TikTok Creator Marketplace. It was a brilliant session that underlined the power of UGC (User Generated Content).
4. Conquer the Keyword Battlefield – Strategies to help you Rank Faster, Better, Cheaper – One of the most anticipated sessions was by Ritu Java, CEO of PPC Ninja, which looked at how to remain profitable while still ranking for keywords in Amazon. Her session introduced the attendees to a new way of doing keyword research that has resulted in better performance, which was supported with live data that helps brands/ sellers rank more profitably while maximizing keyword market share. It covered areas like keyword rank strategies over time, keyword ranking strategies, and keywords research sequence for launch. This session also focussed on some of the tools to leverage to get keyword insights like Helium10 Cerebro and how its powerful reverse ASIN/Product ID lookup tool help; successfully launch new products and bring more awareness to your brand, leverage your competitors' keyword ranking strategies to improve your listings and gauge the most effective keywords for your products on Amazon and Walmart.
5. Ecom Exits: A Legal Perspective – This was a presentation by Rafelson; an enterprise that calls itself earth's most eCommerce-centric law firm, built exclusively for eCommerce business, Corporate, Intellectual Property M&A (Exit), Amazon Suspensions, Disputes, and more. They help e-commerce entrepreneurs create, expand, and protect their companies and assets by bringing business experience, technical skills, and creative thinking to their opportunities and challenges. It was an eye-opening session from a seller's perspective as it made them aware of the inherent risks of getting into a marketplace. How a correct understanding of the law can protect marketplace seller interests, and how lawyers can negotiate massive risks that occur in a sale without the seller clearly understanding the agreement. The session covered aspects of how to prepare for a deal that looked at legal hygiene and the health of the Amazon account, amongst other things. It closed with the following four strategies; quick closes are dangerous, start early, have an e-commerce law firm that understands Amazon is crucial, and do not DIY your legal counsel.
6.eCommerce 3.0 – Strategies to Scale Business Powered By Data & Technology – This was a presentation by Canaan Schladale-Zink, Chief Revenue Officer (CRO) at Quartile; Quartile is the world's largest e-commerce cross-channel advertising platform built on six patented machine learning technologies. The session looked at marketplace evolution over time, the challenges faced, and the winning strategies that worked. Overall Amazon sellers pay more fees as a percentage of their sales. Over time the same services have gotten more expensive (FBA) and unavoidable (advertising). Some interesting case studies highlighted the need for an e-commerce 3.0 channel approach. The 3.0 approach examines parameters such as media mix modeling, channel prioritization, budget allocation scenarios, KPI definitions, channel expansion schedule, lookalike modeling, and segmentation modeling. It showcased how to leverage Amazon Marketing Stream, Amazon Marketing Cloud, and Audience Segmentation DSP with some real-life examples. The final part of the presentation looked at evolving from last-touch attribution and audience-building opportunities.
7. How Premium Brands Win in Price-Sensitive Amazon Categories – A great session co-presented by John Shea Jay McQuillan, CEO, Co-Founder, Momentum Commerce, and Jay McQuillan, CTO, Co-Founder, Momentum Commerce. A fantastic session for the marketplace sellers that highlighted the challenges faced by premium brands on Amazon, Data science approaches/ how Amazon teams can organize around data science solutions. There was a pop quiz to get the audience get going. The presentation also involved an example of data science in action: Building a model to understand what makes products dominant on Amazon. There were "10 Strategies for Successfully Promoting High Priced Products on Amazon," and finally, wrapping up with a tool that allowed the participants to live score their own Amazon business.
8. Own Your Customers: How to Maximize Amazon Sales Using Shopify, Facebook, & Google – This presentation by Dakota Morse, Founder & CEO of ALT Group & Wallaby Goods, looked at three critical areas across platforms. First, how an omnichannel strategy builds billion-dollar brands. Second, how to build a high-converting Shopify store, and lastly, how to scale Shopify sales. Dakota has rich experience, having worked at Amazon Corporate for five years in the Advertising division, which he left to establish Agency: ALT Group, where he helped launch 8-figure e-commerce brands. The three key takeaways from this session were the following; first, it's always better to educate your target customer before they get to Amazon; second, the customer journey is not as fluid as it once was, making it critical to have an omnichannel strategy and multiple dynamic touch points to create affinity and last it is best to operate your website and Amazon in tandem.
9. Improving Fulfillment Capabilities Using Buy with Prime – This session was co-presented by Nicole Reich – Blue Wheel Media (formerly Retail Bloom), VP of Sales & Marketing, and Derek Majewski – Amazon, Agency Development Manager, Buy with Prime. A very informative and educative presentation that helped merchants and marketplace sellers understand the utility of Buy with Prime, a program that allows US-based Prime members to shop directly from participating online stores using the Prime shopping benefits they love and trust – including fast, free delivery, a seamless checkout experience, and easy returns. The session focussed on three key areas. First, how do marketplace sellers and vendors decide if Buy with Prime is suitable for their business? Second, understanding the implementation process and determining the best ways to maximize Buy with Prime. Adding Buy with Prime to a marketplace can unlock many benefits for the sellers; it can help attract Amazon shoppers to your site, and one can use Buy with Prime in their marketing. Marketplace sellers can offer fast and free delivery using this program. The three core groups that Buy with Prime works very well with are; brands wanting one standard location for eCommerce inventory, brands wanting to jump-start B2C websites by increasing conversion, and brands launching new products.
10. The State of the Amazon Seller: Strategies, Struggles, & Succeeding in 2022 – Michael Scheschuk, President, Small & Medium Business Jungle Scout, presented the Jungle Scout's Annual Report on the state of Amazon sellers. The report involves a survey of over 2600 e-commerce sellers, entrepreneurs, brands, and agencies in over 100 countries and 20 Amazon marketplaces to better understand strategies, sales, profits, motivations, and challenges to help marketplace sellers succeed. The report had some fascinating observations, such as; More than 50% of sellers use the private label. Most sellers have 6-10 products, and FBA is used by more than 80% of sellers. The report also delved into the strategies marketplace operators and sellers should look at in 2023; for instance, for better product research / finding or developing a product, the operator/ brand should look at customer reviews that provide a treasure trove of information. For expanding sales opportunities, one should look at the global omnichannel approach; for instance, both Walmart and Etsy have successfully demonstrated this strategy. The report also presented the advertising landscape and stressed the need for high-quality content and videos. It provided tactics to optimally leverage social media, paid search, and Google Ads. Lastly, it also discussed how to use AI to one's advantage effectively.
PRODUCT ANNOUNCEMENTS AT PROSPER SHOW
Prosper Show has always held up the promise of new product announcements, and this year was no different, with a slew of solution providers showcasing the best they have to offer.
Quartile launched Quartile Versa – This revolutionary new product empowers brands and agencies with greater control over their advertising campaigns. Built on top of Quartile's award-winning AI technology, Quartile Versa simplifies campaign structures and offers advanced rules-based optimizations for maximum performance. With Quartile Versa, brands can customize their campaign structures, set their strategies, goals, and budgets, and choose which features and variables to customize.
Trellis released a new platform that uses AI to manage all 4Ps of your merchandising. Trellis Data specializes in using computer vision for object detection and understanding natural language processing to produce highly accurate speech-to-text and translation. By partnering with its customers and service providers, the company delivers AI technology that can tackle complex real-world problems.
Seller Labs released Data Hub – Seller Labs Technology can power your business, whether you are a Seller, Agency, Integrator, Aggregator, or want easier access to the complex eCommerce data that Amazon makes available. Their technology ingests all the eCommerce data and makes it available via SQL, API, or Google Sheets, so one can focus on insights instead of data collection.
Helium 10 released a new Insights Dashboard, which helps Amazon sellers and brands manage their business at scale. The Insights Dashboard is a dashboard of tools that provides you with data, recommendations, and actions that will drive your eCommerce business growth.
Carbon6 announced the acquisition of D8aDriven – Carbon6 has recently acquired D8aDriven, a powerful software tool that aggregates seller and vendor data into a single platform and creates industry-leading executive summaries with action steps for operators to see immediate results week over week. Built by former Amazon employees, D8aDriven brings data-powered account management to the Carbon6 software suite, allowing e-commerce sellers and agency leaders alike to generate greater results with a smaller team by focusing on execution rather than data gathering and interpretation.
Jungle Scout announced the new AI assist copywriter – Jungle Scout's Listing Builder leverages the power of OpenAI's ChatGPT technology to generate product listing content in seconds using the top keywords from your keyword bank. With a click of a button, AI Assist can accelerate the tedious effort of writing a listing so you can focus on generating revenue for your business. AI Assist writes in English, helping non-native English and ESL speakers hone their listings for English-language Amazon marketplaces and saving potentially costly translation services.
FINAL THOUGHTS
It was yet another solid showing for Prosper Show. While in 2022, the aggregators made a big splash at the show, this year, the focus was more on delivering for their customers, building their businesses, and expanding their knowledge. The show catered to intermediate sellers who have mastered the basics of digital commerce and are ready for the next steps. We learned so much being part of this fantastic event providing opportunities for brands and service providers to network and connect. Can't wait for the 2024 edition. For more information on upcoming events McFadyen Digital is part of visit our events page.