NAW Executive Summit 2023 – Event Recap with Video
Here's The Lowdown On NAW Executive Summit 2023: The Next Frontier of Wholesale Distribution

Introduction
Founded in 1946, NAW (National Association of Wholesaler-Distributors) is America's foremost trade association. It represents the $12 Trillion wholesale distribution industry. The market size of the Wholesale Trade industry is expected to increase by 1.6% in 2023. NAW comprises national, regional, and state employers of all sizes, industry trade associations, partners, and stakeholders spanning all sectors of Wholesale and distribution. The Wholesale and distribution industry employs over 5 million people in the U.S. and accounts for over 30% of the U.S. GDP. In the U.S., 35,000 Wholesale-Distribution companies operate close to 150,000 places of business.
NAW's mission is to deliver world-class programs and services designed to help the most dynamic companies in Wholesale-Distribution succeed. Its members engage with NAW through offerings in Thought Leadership, Networking, Executive Education, Benchmarking/Research, Shared Resourcing, Partnerships, Government Relations, and Public Affairs.
"NAW Executive Summit: The Next Frontier of Wholesale Distribution" is NAW's premier event that is aimed at bringing together the best and brightest to discuss the current landscape of wholesale distribution, what's on the horizon, and how to blaze through the trail for the next generation of wholesale distribution. The summit took place towards end of January in Washington DC, and saw participation from over 300 of our nation's leading wholesaler-distributors.
The event saw innovators and industry stalwarts examining industry insights and trends in the changing technology landscape. There were some fantastic sessions spread over three days of the event that explored the best practices and strategies the leading distributors are using to improve sales efficiency and best set the table for long-term profitable growth. Let's look at the event in little more detail.
Day One – Tuesday, January 31, 2023
NAW Executive Sales Forum – Hosted by SPARXiQ, this session explored the best practices and playbooks that leading distributors use to improve sales efficiency and effectiveness and enable long-term profitable growth. It witnessed industry-leading sales experts and practitioners discussing the key issues distributor sales teams face. It was a great session to learn how to navigate and master the forces of change and build successful initiatives to secure revenue growth and strategic positioning.
NAW Executive Innovation Forum – Hosted by McKinsey & Co., connected innovators and industry executives by examining insights and trends from the distribution industry through a lens of technology and digital tools. They presented an industry whitepaper called "The Coming Shakeout in Industrial Distribution." It looks at the powerful trends that have disrupted worldwide industries and are now affecting industrial distributors. The modern distributor of today is building scale, making advances in commercial and operational excellence, and digitizing to create the seamless, omnichannel experiences that customers now demand.
2023 NAW Executive Welcome Reception – This was the official kick-off from North America's leading distribution executives, thought leaders, and technologists for the 2023 NAW Executive Summit. NAW President and CEO Eric Hoplin at the Fairmont, Washington D.C. hosted it. The evening featured heavy hors d'oeuvres, a premium open bar, and great conversations with the leading minds in our industry.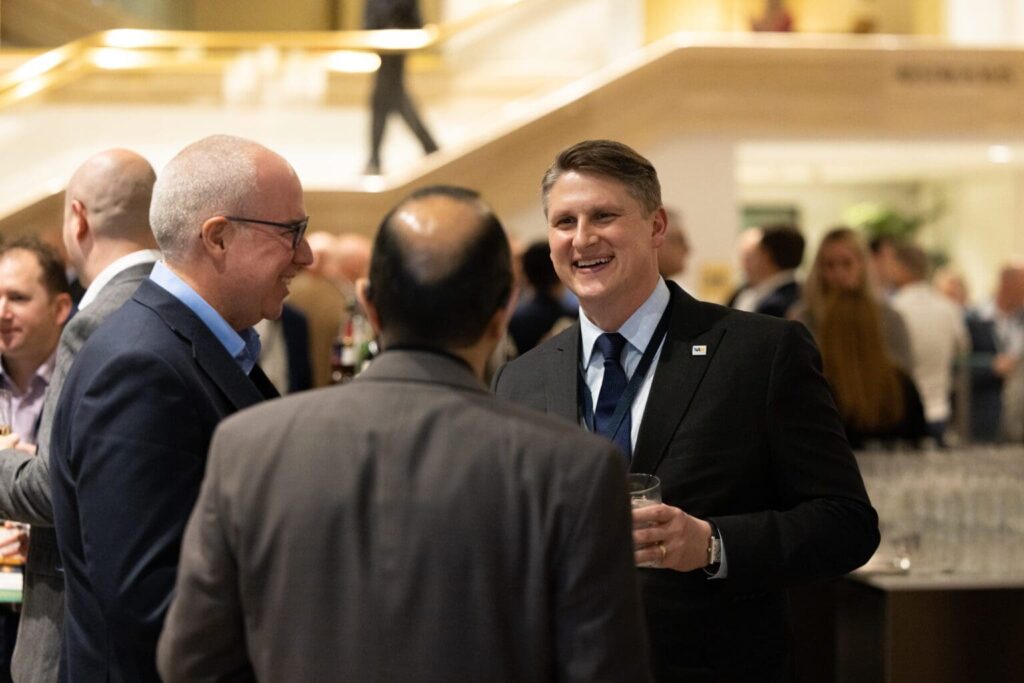 As an invitation-only side event, the reception provided an opportunity for select Billion Dollar Presidents & CEOs for an exclusive dinner following the welcome reception. The NAW Rising Leaders program members were invited to a special dinner and a night out on the town following the welcome reception.
Day Two – Wednesday, February 1, 2023
NAW-PAC (NAW Political Action Committee) Breakfast was a ticketed event. The NAW-PAC hosted a breakfast to share its mission of helping elect competent, pro-business candidates supportive of the wholesale distribution industry. In this event, they were joined by supply chain expert turned Congressman John James of Michigan's 10th district. John discussed what's on the horizon in the 118th Congress and what it means for America's distribution leaders and the industry.
The Executive Summit Networking Breakfast ran parallelly and allowed the audience to connect with some of the brightest minds in our industry over breakfast. This was followed by some general sessions that went up until noon.

Welcome Remarks – Eric Hoplin, NAW President and CEO – Eric provided an overview of what to expect over the two days and spoke about the distribution industry's current state and its challenges. Eric has 20 years of experience successfully leading organizations and corporate divisions by communicating a compelling vision, designing an effective strategy, recruiting/managing a talented team, and working tirelessly to help the group achieve its mission. He is also a leader in the charitable community, serving on the Boards of the Trust for the National Mall and the Reagan Ranch.
Leadership and Happiness; Arthur Brooks – Happiness expert and Harvard Professor Arthur Brooks's morning session started with a presentation that was based on one of the most popular courses in Harvard Business School – Leadership & Happiness. The book talks about the fundamental idea – to be successful in life, one should understand happiness and manage it. He emphasized in his session the enormous opportunity for businesses to improve happiness practices internally, raising workplace engagement, facilitating recruitment, and increasing retention and productivity. He demonstrated how companies could establish a culture of meaning and purpose, lift satisfaction, and can thus prosper in highly competitive labor markets where culture and quality of life are critical.
Profitable Growth Strategies from Industry Leaders – In this session, a panel of executives from several industry-leading distributors discussed their strategies for achieving profitable growth in today's complex economy. They shared some of the secret sauce for success, and the forward-looking distributors spoke about their innovative commercial strategies and provided tips to grow fast organically and through acquisition.

Throughout the day, NAW provided rich content with actionable insights about the industry's most relevant issues. It also ensured that the best industry experts minds would teach these sessions with real-world distribution industry experience.

Fireside Chat; Secretary Mike Pompeo and NAW CEO Eric Hoplin – Secretary Pompeo joined NAW CEO Eric Hoplin for a fireside chat to discuss global and domestic challenges impacting the distribution industry. 70th Secretary of State, and a former business executive himself, Mike Pompeo, provided the attendees with an unmatched perspective on what to expect in the coming years and how companies can better prepare themselves for disruptions happening at a global and geo-political level.


NAW CEO Panel featured an all-star panel of CEOs from some of the largest, most successful firms in America to discuss top-of-mind challenges heading into 2023 and their strategies for tackling them. They spoke on some of today's most pressing topics: acquiring talent, managing through supply chain shortages, technology investment, and navigating a complex regulatory environment.

Innovations and Insights from the NAW Institute – This consisted of the session where the attendees heard about the state of the industry from scholars, researchers, and extensive industry thinkers. The presenters deep-dived into essential research topics related to the distribution industry and discussed the current state of wholesale distribution and what lies ahead.
Executive Discussion Roundtables provided the attendees with real-time feedback on specific business challenges faced at their organization from some of the brightest minds in our industry. In this session, distribution and manufacturing executives convened in small groups of non-competitors operating at a comparable scale for open dialogue and strategic consultation.
NAW Executive Dinner Gala at the National Air & Space Museum – This was the premier dinner event for the North American distribution industry. Hosted at the newly-renovated National Air & Space museum on the National Mall, this event celebrated the industry's resilience and success against unprecedented challenges over the last couple of years. Former ISS Commander Chris Hadfield provided his unique perspective on overcoming challenges. As an ISS Commander, Chris Hadfield's daily routine was to prepare for and solve worse-case scenarios from a team and leadership perspective. Chris discussed the necessity for preparation and reaction to complex change using insights from his career in the astronaut corps.

Day Three – Thursday, February 2, 2023
2023 NAW 5K Run/1 Mile Walk on the National Mall – For the tough ones looking to brave out the chilly morning, NAW arranged a 5K Run/1 Mile Walk on the National Mall, a morning journey around one of the most beautiful and iconic areas of Washington, D.C. Buses took participants to Washington Monument with the run winding around the WWII memorial and Lincoln Memorial. There were plenty of sights to see along the way.

NAW 2022-23 Economic Update – This session by Alan Beaulieu, ITR Economics, provided an opportunity for the attendees to analyze the U.S.'s short and long-term economic forecasts and beyond while discussing the direct impact on the distribution industry. Executive Summit Breakfast and Discussion Roundtables happened on the third day as well, involving some of the brightest industry minds. Eric Hoplin provided the closing remarks for the event.

Key Takeaways

The overall message from the event was that the next frontier of the wholesale distribution industry would belong to those who are willing to adapt to a rapidly changing world and are adept at using digital tools and technologies to stay relevant and focused. It was an enriching experience for the entire three days, where attendees mingled, networked, and collaborated with respected influencers in the industry, such as NAW CEO Eric Hoplin, Dr. Willy Shih, Alan Beaulieu, and executives of major distributors. Here are the four key takeaways from the show.
Distributors As Core Value Chain Partners – The majority of wholesale distributors have now scaled to do more than just product distribution; they need to look at value-added services such as marketplace financing, inventory management, and product expertise.

Labor Gap Is Not Temporary – It's a longer-term evolving change to the landscape. Distributors and wholesalers need to evolve and adapt to the new normal.

Category Management Excellence – This is the next horizon for Wholesalers and Distributors; they need to reimagine category management and category strategy and link this strategy to core value levers.

Embrace Tech to Win in Post-covid Landscape – Only way to avoid the mistakes of deploying legacy and rigid systems is to seek the help of experts who can help you evolve your business model and have a long-term road map for tech stack that evolves with the business.
It was an incredible event hosted in the nation's capital. NAW has been championing the cause of the wholesale and distribution industry for more than 75 years now. It continues to be the leading industry association providing best-in-class thought leadership, amazing educational content, programming, networking, and more. We already look forward to the 2024 edition of the NAW Executive Summit. Want to know how McFadyen Digital helps its Wholesaler & Distribution clients across strategy, technology, and operations? Check out our industry solutions offerings.